Studio Facilities
Our Old House Studio is located in our 150-year-old farmhouse on two park-lake acres in the quiet country town of Philmont NY. We are located approximately two hours north of New York City, and 2.5 hours west of Boston MA, in the Hudson Valley of NY. A more beautiful place to be while working on your recording project you simply won't find.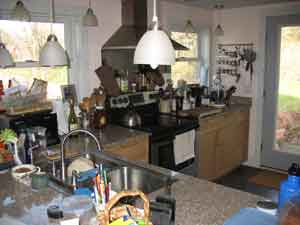 Our Old House Studio includes all of the comforts of home, including a full kitchen, living room with working wood stove, fully renovated bathrooms, and a guest room in case you want to stay with us while working on your project. Nearby attractions include High Falls Conservation Area, Olana State Historic Site, The rugged Catskill Mountains to the west, and the culturally rich Berkshire Mountains to the east. Towns and villages in our county, including Hudson NY, and Chatham NY, are rife with excellent restaurants, cafes, and antique shops and boutiques for your enjoyment while you're here. In addition, the farms and gardens of Columbia County are a bounty waiting to be enjoyed, with farm stands and garden walks galore.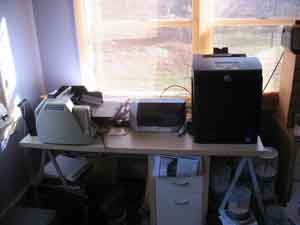 Our Old House Studio is a fully digital, multi-track facility with the highest quality equipment. We record using AKG C414 microphones, considered the standard for voice and spoken word recording. We use the highest quality recording, mixing, and mastering software, including Cakewalk SONAR, Sony Sound Forge, and many others, all run with crystal clear sound reproduction through Echoaudio sound cards and Fostex studio speakers. All cover design is done using Adobe Indesign, Illustrator, and Photoshop, considered the highest standard for cover design and layout. CD duplication is done on Taiyo Yuden white matte CD's, with water resistant inkjet printing of CD images provided on our Primera duplication system.
Barry Marshall of The Storycrafters, our sound engineer/recording producer, has 15 years of experience, and has produced multiple award-winning storytelling recordings, with accolades from Parents' Choice and Storytelling World to his credit. With all of that, we can guarantee that your recording project will be of the highest standard.