Who We Are
Barry Marshall, and Jeri Burns, PhD have been working together as The Storycrafters since 1991, and have been solo tellers for even longer than that. In addition to being internationally renowned storytellers, they are award-winning radio show hosts, recording artists, writers, and the parents of a fiddle-playing musical prodigy, who his parents affectionately call 'their competing gig.' Their creative work as storytellers is rivaled by their creativity in making child-care arrangements for their busy lives as a 'family on the road'.
They perform and teach their art form in schools, libraries, and other venues all over the US, Caribbean, and the British Isles. With a natural, energetic style, they have been featured performers at storytelling and folk festivals nationally and internationally.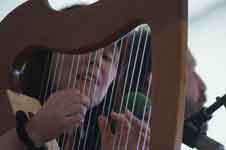 Jeri and Barry believe in the time-tested wisdom of traditional stories and fairy tales, and share that wisdom with today's audiences. They strive to honor world cultures by telling the old stories in respectful ways, often integrating the musical instruments, songs or dances indigenous to that region. They are also well-known for original modern renditions of the oldest stories, using styles such as spoonerism, rap and balladry generously sprinkled with a dose of rollicking fun, poignancy and pizzazz, some of their most requested material.
The Storycrafters have been recognized nationally and locally, from the prestigious Oppenheim Toy Portfolio Platinum Award, Parents Choice Awards and Storytelling World for their storytelling recordings, to Artists of the Year in their county, to The Oracle Award from The National Storytelling Network. Their family radio show, "Just Imagine" has been showered with awards from the NYS Broadcasters' Association. Publishers' Weekly describes them as 'top-notch family entertainment,' and their son would probably say, "Oh, not the car again. But what book on CD will we listen to this time?"
In addition to their work as performers, The Storycrafters are avid promoters of the art of storytelling. They produce their family radio show for audiences in New York and Massachusetts, and are involved in organizing The Riverway Storytelling Festival and The Story Grove at Clearwater's Great Hudson River Revival.